May 2019 saw the launch on the art world of the Tuesday Art Group with their exhibition of paintings and drawings at Café Deli Felice, Rotherhithe. This is not the first time the group has exhibited, but on this occasion the suggestion came from a group member, Jean, who did the initial arranging with Café Deli Felice. We all worked together to decide on the choice of paintings to exhibit. We mounted, hung our own work and arranged the private view, creating a more rewarding experience and an exciting buzz.
The group started on the Aylesbury Estate and now includes people from a wider area. We have been with Inspire for several years and feel part of the Inspire Community. All of us are over 60 years of age and some are in their 80s. We come from different backgrounds and bring different experiences. The eclectic composition of the group is part of its strength, but the group is more than just an art group. Friendships have been made, we all support each other, and we laugh a lot. Many of us have health problems, but attending the group and feeling the care from other members has been important. The group flourishes because of Gil, our teacher/facilitator. We have different abilities but Gil can always find something positive to say about our work, which encourages us to continue.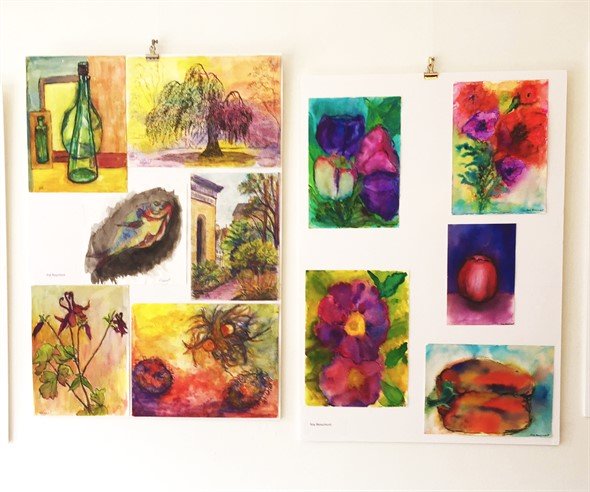 Sponsored by Age UK the private view was very successful and very well attended by families, friends and passers-by interested to know about this 'happening' in Albion Street. There was a lovely atmosphere helped by the welcome given by the Café Deli Felice owners. The paintings were deservedly very well received, deeply discussed with preferences stated and sales made. Linda, a group member commented, 'it was my first ever exhibition with my own board to exhibit my works. I felt very proud. Visitors to the exhibition included children and young people and it was good to see them being enthusiastic about the possibilities of art – passing on the passion.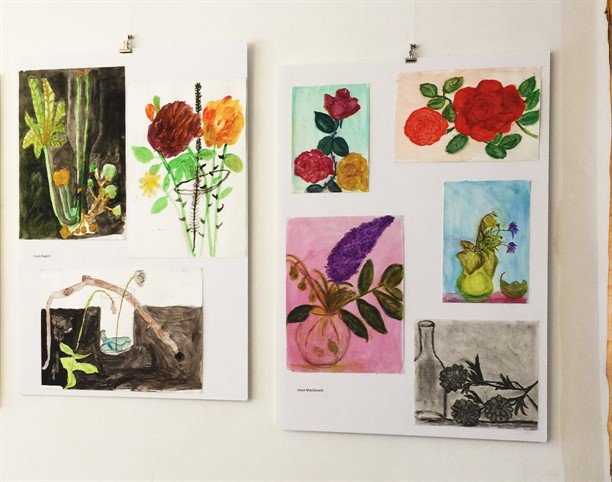 Research conducted by Arts and Minds, a leading arts and mental health charity quoted in the Guardian recently stated 'Our evidence shows that taking part in creative activities has a positive impact on people's mental health……it is important for wellbeing because beauty has a role in our lives.' This is why our group is so important. We can pass on our passion through exhibitions and others can see how our group has had a positive impact on us. Many thanks to Cafe Deli Felice and Age UK for giving us the opportunity to hold the exhibition.
For more information about the Tuesday Art Group check out their page www.in-spire.org.uk/art-classes