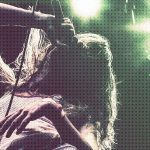 Mariin reached out to InSpire looking for some advice and assistance to help her further her development around Music Production and Sound Engineering. 
When she first attended InSpire, Mariin was working in the hospitality sector to help pay her rent but was not happy with the direction she saw her life going in.  
After attending some appointments at InSpire and speaking about her personal interests and ambitions, we managed to find her some options for sound engineering courses that she was very interested in being involved with alongside her work at the time.
Helping young people gauge themselves with their personal work and goals is a massive part of the role within the 'InSpired to Work' programme. Mariin was already a confident young lady but was unsure on where she could go to improve  and extend her personal skills. She was concerned about just devoting herself to work in the hospitality sector and building a career there rather than following the career path in media that she loved passionately.  
Following her advice sessions at InSpire, Mariin is now studying Music Production at London AMP and hopes to progress her musical skills and tour with her band.
Mariin said: "Inspire has helped me to find my way in my career!   When I contacted Inspire I felt lost in my job situation. They gave me the opportunity to think about my skills, strengths and weaknesses which has guided me in the right direction.  At the moment I am studying a Sound Engineering course and fully enjoying it. If I am ever in need of good advice about my career I know who to turn to"